Created
09 jun 2023
Updated
07 sep 2023
In the business world, trade fairs and commercial events play a crucial role in establishing contacts, generating business opportunities, and promoting products or services. They are widely recognized as one of the most effective marketing tools across various industries for discovering new business prospects and expanding into new markets.
However, companies often face challenges due to the constraints of costs, procedures, and logistics involved in effectively showcasing their full product catalog to booth visitors. As a result, companies typically present their flagship products or new releases at trade fairs and events, but they may not always succeed in adequately showcasing the exact product that visitors need during these valuable opportunities, thus missing out on a golden chance to captivate customers with a solution.
Fortunately, Vcity's virtual showrooms now offer companies the possibility to overcome these limitations and maximize their participation in such events.
Enhance Your Exhibition with Unlimited Space
Vcity's virtual showrooms are an innovative solution that empowers your company to maximize its presence at trade fairs and commercial events. By harnessing the power of virtual reality and cutting-edge technology, our virtual showrooms provide an interactive and engaging platform for showcasing your complete range of products and services to booth visitors. This enables you to effectively cater to visitors' specific needs by presenting the most suitable products at the right moment.
Imagine the ability to showcase every product in your catalogue to booth visitors, regardless of their size, shape, or quantity. With virtual showrooms, you can create a virtual environment where visitors can explore your entire catalog, navigate through different product categories, and access detailed information such as videos, technical specifications, brochures, or images. This immersive experience enables you to captivate and engage visitors, ensuring they find the perfect solution for their requirements.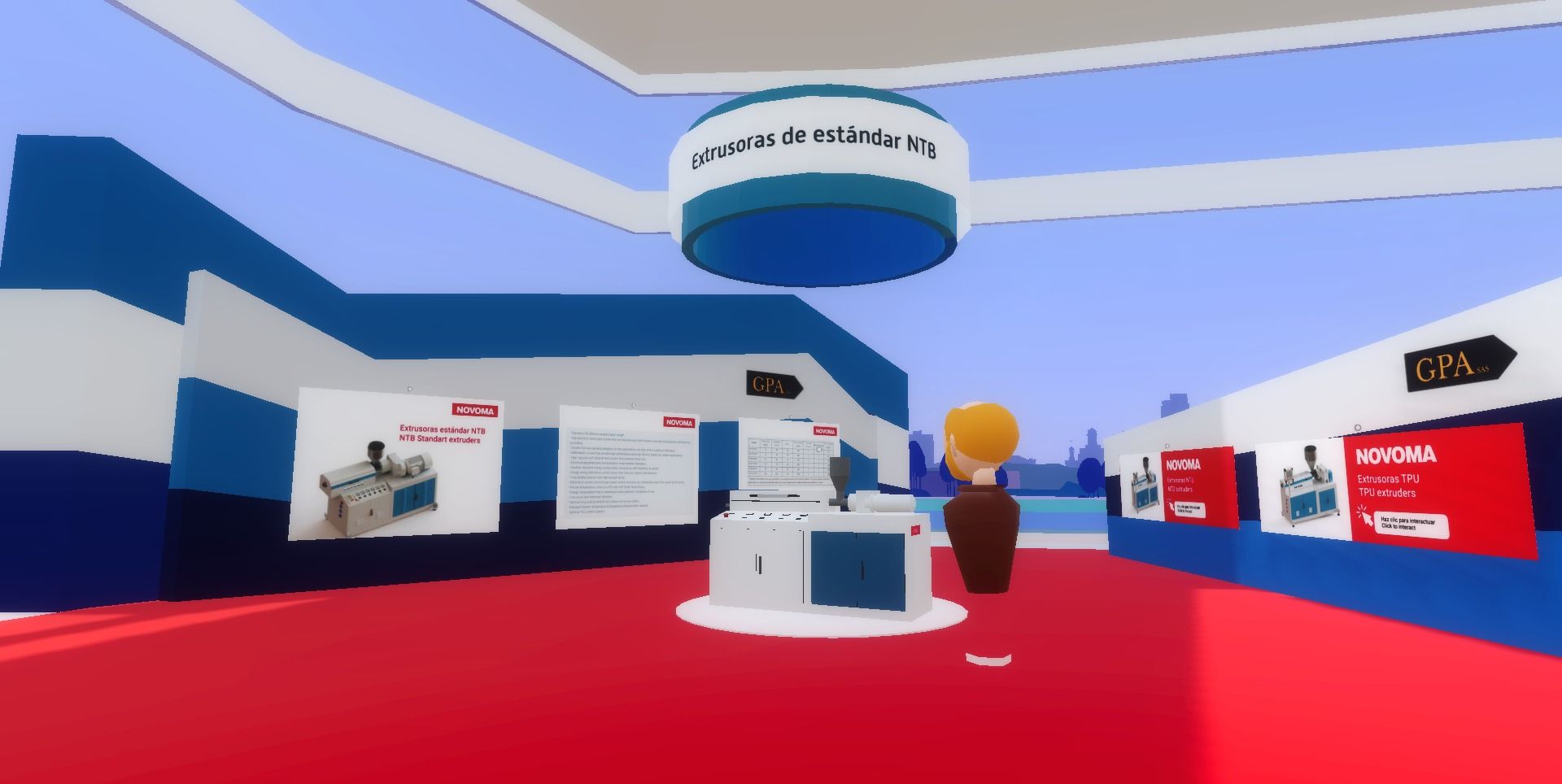 Immersive and Personalized Interaction
One of the most notable features of Vcity's virtual showrooms is the ability to offer an immersive and personalized interaction experience to visitors. In a virtual showroom, your visitors can actively engage with the products and tailor their experience to their specific needs and preferences.
Imagine a scenario where a visitor at your booth during an event expresses interest in a particular product and seeks more information about its features, customization options, or pricing. With your virtual showroom, you can instantly and comprehensively provide them with all the necessary details. The visitor can interact with the product, explore its various variants, view it from different angles, experience augmented reality, and zoom in on specific details.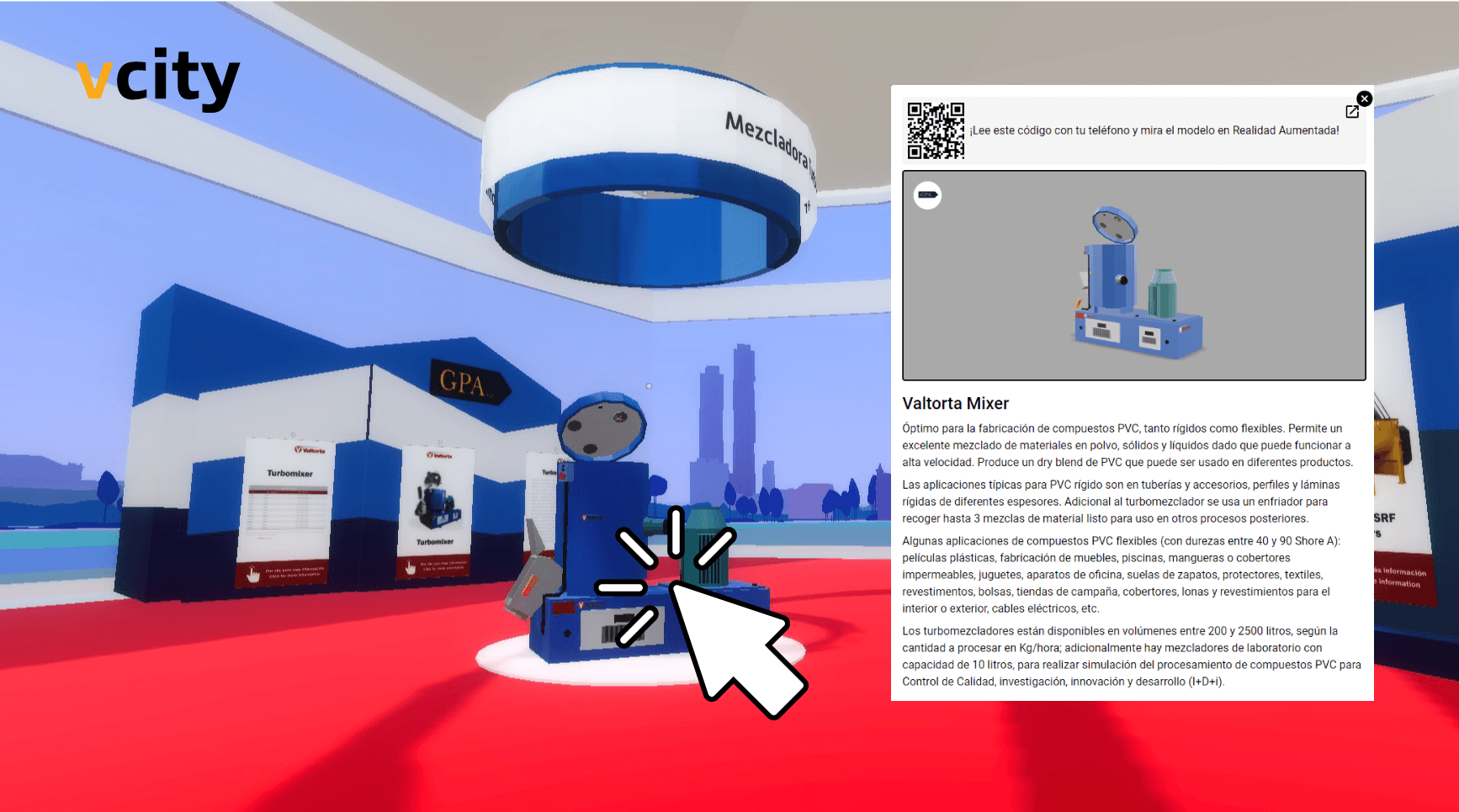 Captivate your visitors with images and videos
One of the standout features of Vcity's virtual showrooms is the ability to share detailed product information in various formats through interactive screens. These screens serve as an effective communication channel that allows companies to dynamically and attractively showcase all the details and features of their products, including those that are physically displayed at the trade show or business event.
Imagine a visitor to your booth who wants to learn more about the technical specifications, functionalities, or benefits of a product or service. Instead of relying solely on physical brochures or catalogs, you can also share information from the interactive screens of your virtual showroom, providing an interactive experience where visitors can access real-time and detailed information.
Through these screens, you can share images, explanatory videos, downloadable files (brochures or catalogs), and access additional links to expand their knowledge about the products (e.g., blogs, websites). This visual and informative interaction provides visitors with an immersive and enriching experience, allowing them to delve into the details and better understand how the products can meet their needs.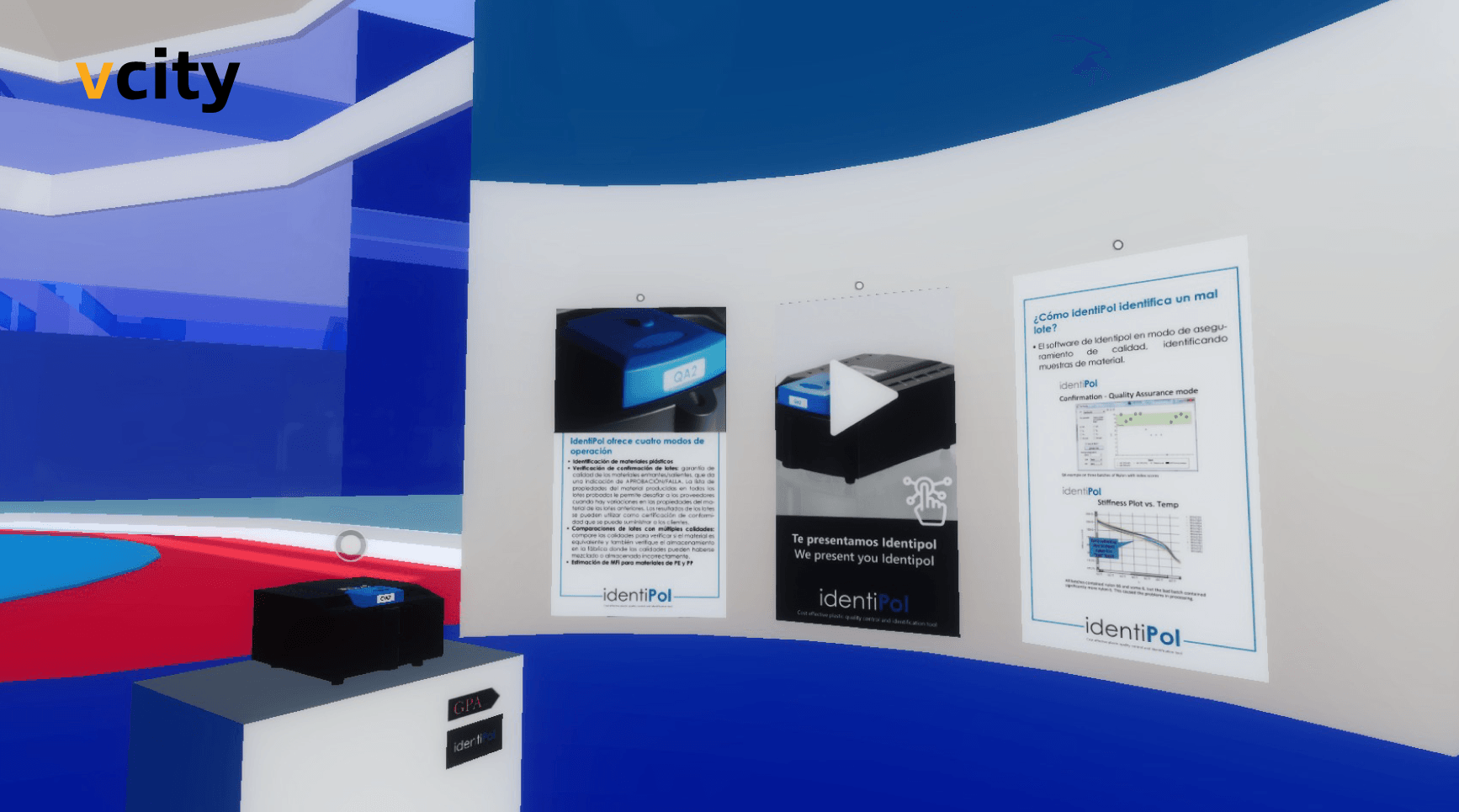 Augmented Reality in Virtual Showrooms
In Vcity's virtual showrooms, the immersive and personalized interaction goes beyond expectations. Thanks to augmented reality technology, visitors to your booth can engage with products that your company is not physically showcasing at the event.
With augmented reality, you have the ability to present products in the real world through your Virtual Showroom, allowing visitors to examine them in detail, rotate them, zoom in, and explore their key features. This captivating experience provides them with a precise understanding of how the products would appear in real life. You can enhance this experience by providing explanations of their functionalities or by sharing additional information available in your Virtual Showroom, such as videos, images, or catalogs.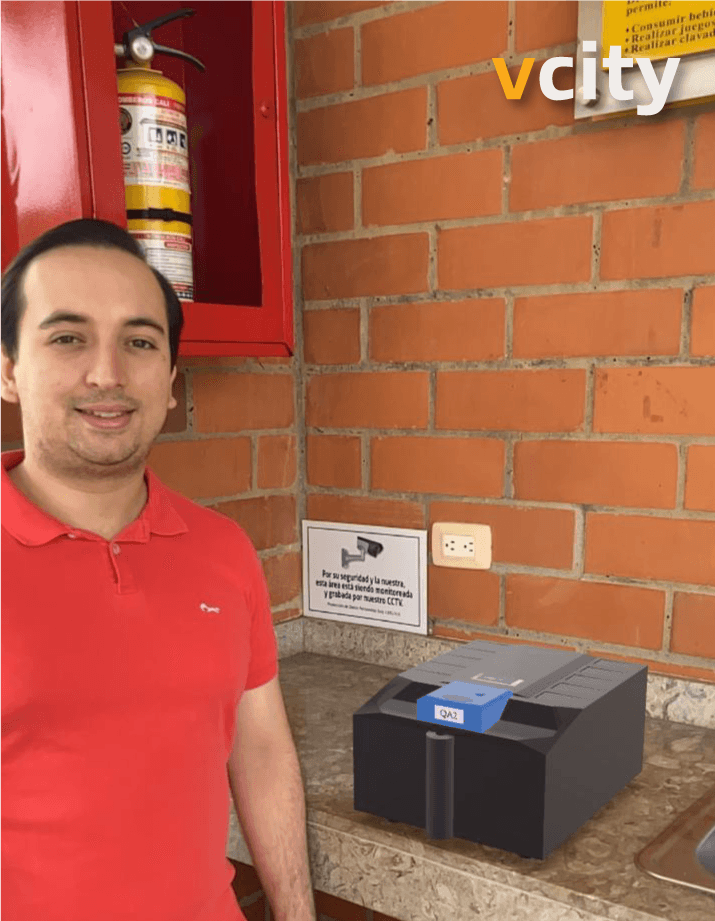 Create your virtual showroom and enhance the experience you offer to your clients.
Don't miss the opportunity to boost your participation in trade shows and commercial events! Create your own virtual showroom on Vcity now and provide a unique and immersive experience to your visitors at trade shows and commercial events.
If you don't have time to visit, schedule a demonstration meeting with us by emailing jdguarin@owsas.com