Created
04 may 2023
Updated
22 may 2023
Why is it important to innovate in companies?
Innovation is essential for the growth and success of a company. By innovating, companies can improve the quality of their products and services, increase customer satisfaction, stay competitive in the market, and expand their presence in new areas of business. It is essential that companies understand the importance of innovation and integrate it into their culture and processes to ensure long-term success.
Innovation can also improve the company's reputation, attract new customers and talent, and develop innovative solutions that allow it to differentiate itself from the competition and create its own market niche.
What are innovation events?
Innovation events are an excellent tool for companies to promote their innovation processes. These events are designed to help companies develop and present new ideas and projects, and to encourage collaboration and learning among employees and partners.
How can innovation events help your company foster its innovation process?
Here are some ways in which innovation events can help your company foster its innovation process:
They stimulate creativity: Innovation events offer a different working environment where employees can unleash their creativity and generate new ideas.
They foster collaboration: Innovation events promote collaboration and teamwork, which can help employees share knowledge and skills, and develop joint projects.
They generate new ideas and projects: Innovation events are an opportunity for employees to present their innovative ideas and projects, which can lead to new business opportunities and growth.
They promote learning and development: Innovation events can be an opportunity for employees to learn about new technologies and trends, and to develop skills and knowledge in areas related to innovation.
They improve the company culture: Innovation events can improve the company culture by promoting an innovative mindset and encouraging employee participation and commitment.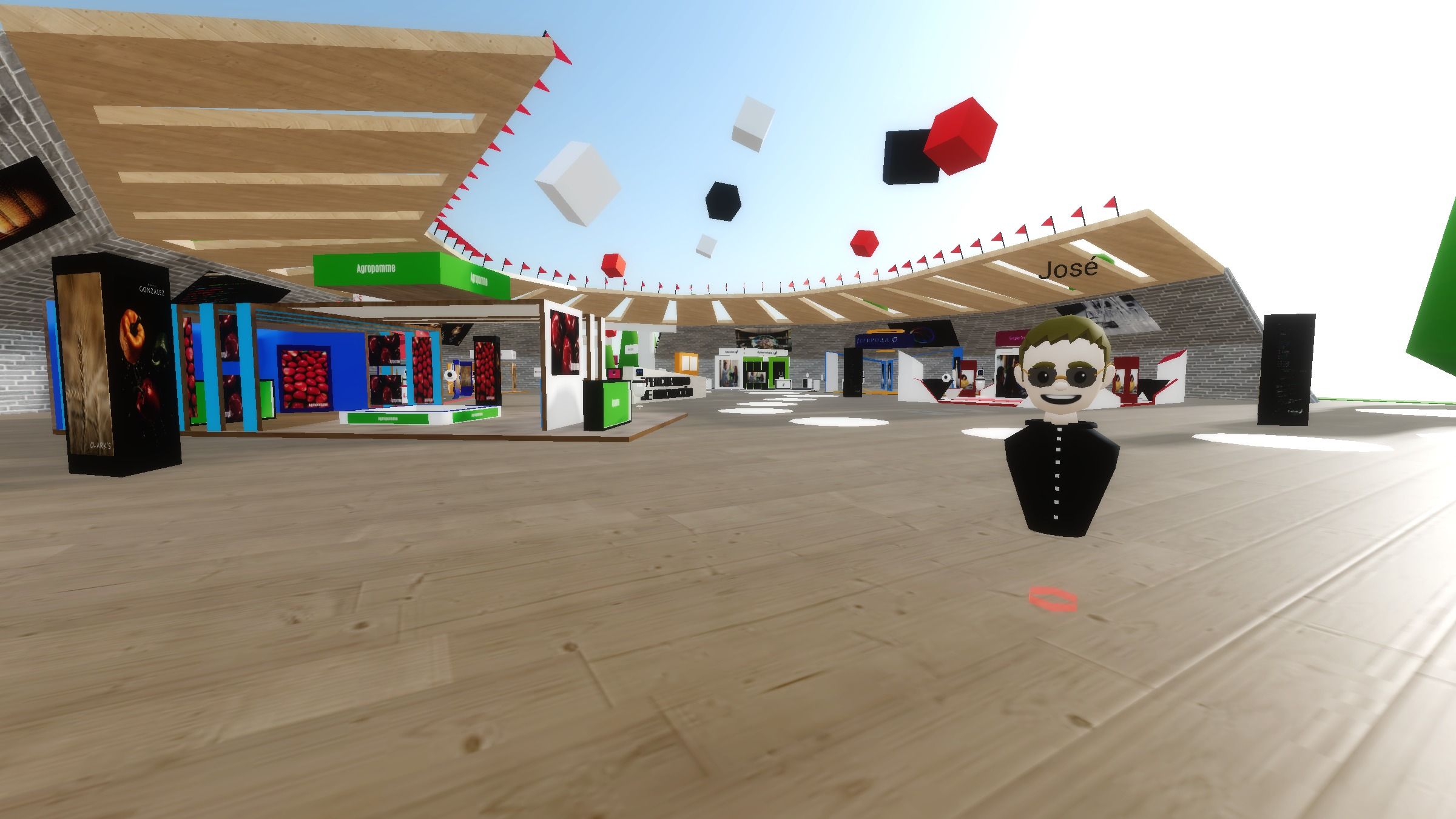 How can Vcity help you organize innovation events for your company?
At Vcity, we offer innovation event solutions that can help your company foster a culture of innovation in its employees. Here are some ways we can help organize your innovation event and take it to the next level.
Generate and share innovation projects in your company through interactive stands
Generating innovation projects is an excellent way to improve your company's competitiveness and stimulate business growth. An effective way to share these projects with the rest of the company is through interactive stands.
At Vcity, your collaborators and employees can showcase their innovation projects in a more visual and detailed way, using tools such as images, videos, blogs, links to other websites, catalogs, and live presentations. This form of exhibition allows your employees to explore the projects in-depth and better understand the potential benefits and applications they can have for the company.
Moreover, presenting innovation projects in interactive stands can be a great opportunity to foster collaboration among employees. Exhibitors can involve other departments in the conceptualization and development of their projects, which can generate new ideas and solutions that were not previously considered. In this way, a collaborative and learning environment is created, where all employees can feel inspired and motivated to work together towards common goals.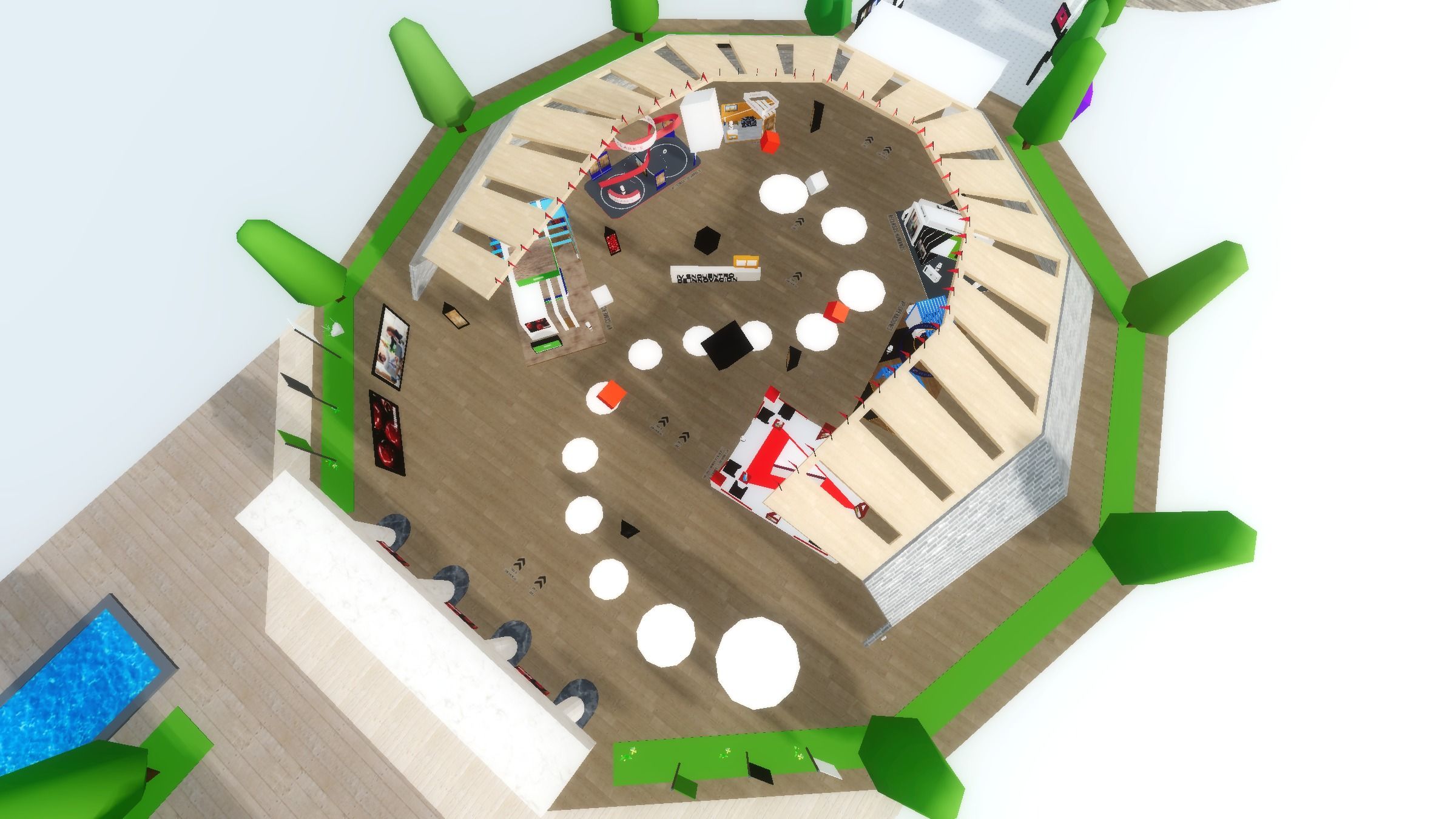 Exhibition hall of stands at an innovation event
Strengthen the skills and knowledge of your collaborators and employees with conferences and webinars
Hosting conferences and webinars during innovation events is a unique opportunity for employees and collaborators of your company to interact with innovation experts, employees from other companies with successful innovation projects, and employees from your own company.
These conferences and webinars can be a powerful tool to motivate and inspire your employees to think creatively and seek innovative solutions to the challenges facing the company. Additionally, these conferences and webinars can provide valuable information about the latest trends and technologies in the field of innovation, which can help your company stay up-to-date and competitive.
Webinars and conferences can also provide a platform for your employees to present their ideas and innovation projects and receive feedback and comments from experts and colleagues. This can be an invaluable opportunity for employees to develop their presentation skills, receive guidance and advice from experts, and receive support and recognition for their work.
Participating in these conferences and webinars can also be an opportunity for employees to establish contacts and connections with influential people in the industry, which can be beneficial for their professional growth and for the company as a whole.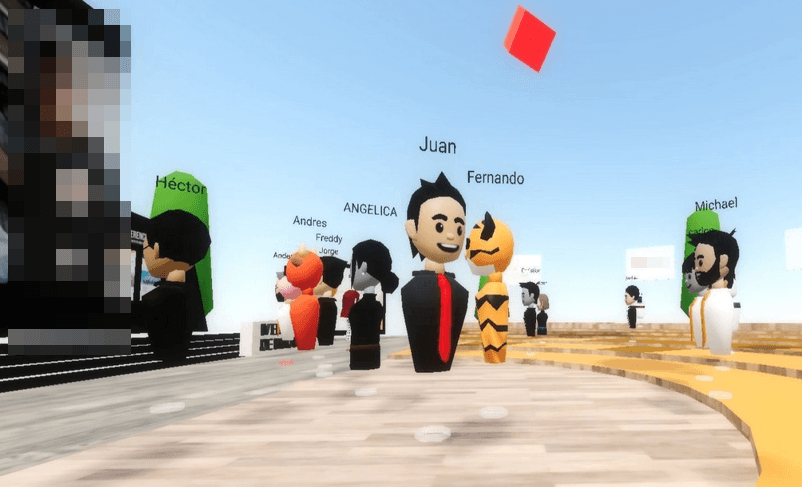 Innovation specialist conference at a company's innovation event
Engage your employees and encourage their participation with real-time multiplayer experience.
The possibility of having a real-time multiplayer experience at an innovation event is a unique opportunity for participants to exchange ideas, make contacts, and strengthen synergy among themselves. By allowing them to interact with each other, a more collaborative and participative environment is created, which can lead to greater motivation and inspiration for generating innovative ideas.
In addition, real-time interaction can lead to instant feedback and joint problem-solving. This can lead to greater efficiency in generating innovative solutions, as challenges and obstacles can be quickly identified and addressed.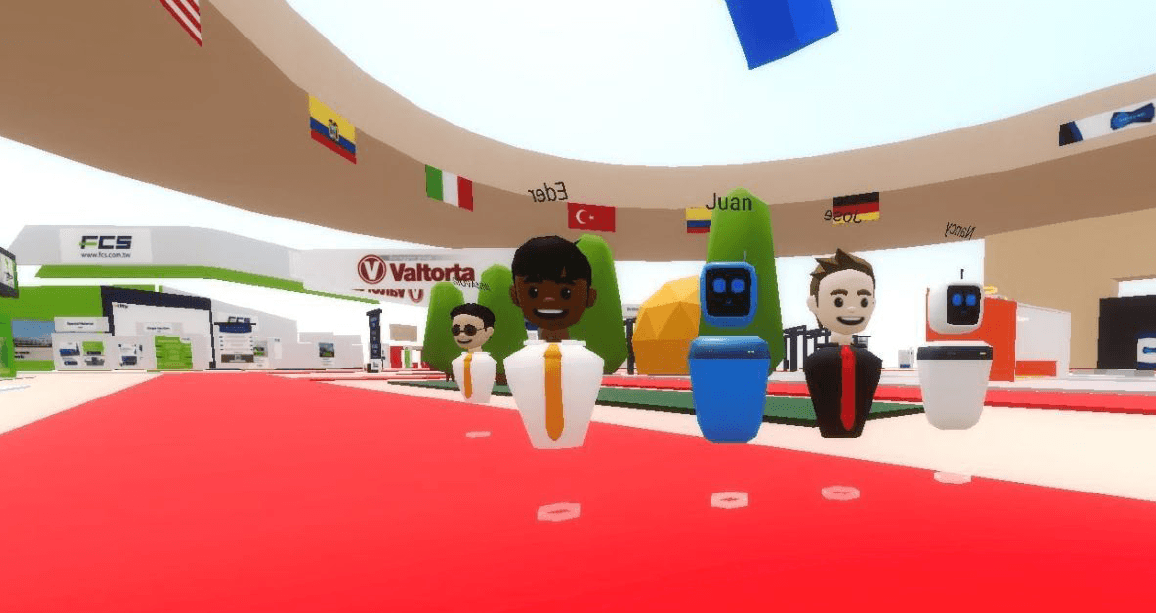 During innovation events held with Vcity technology, it is also possible to take photos and selfies, which is a fun and creative way to engage participants and increase their participation in the event. This allows them to capture unique and special moments, either alone or in a group, and share them with their colleagues and on social media.
In addition, these photos can also be used by the company as part of their marketing strategy and to promote future innovation events. By being able to take photos and selfies during the event experience, a memorable and enjoyable experience is created, which helps foster a culture of innovation within the company.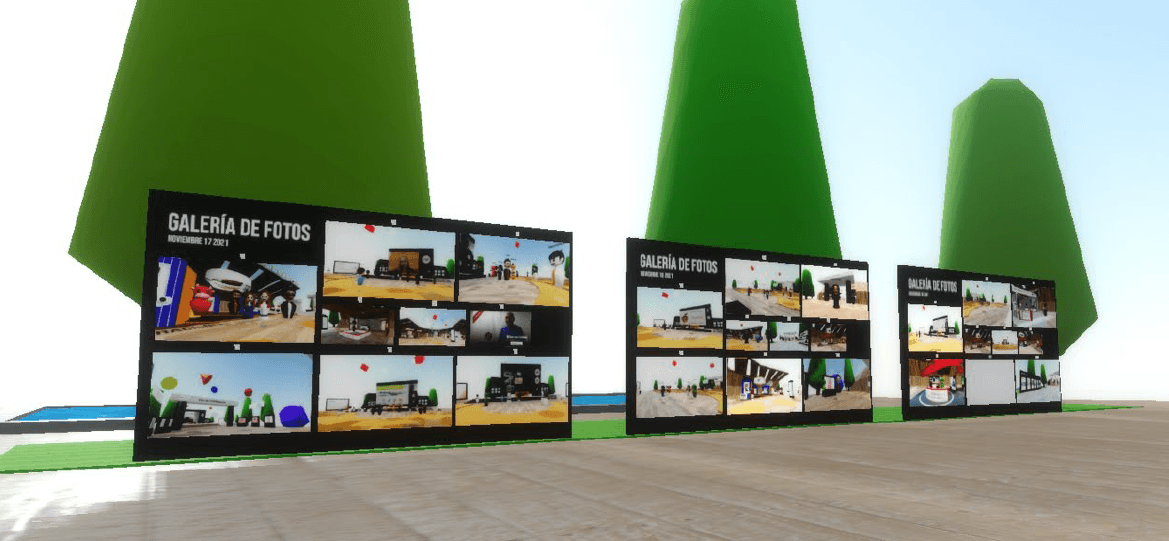 Photo gallery where companies can share the featured photos of the innovation event.
Available for everyone no matter where they are or what time they can be there
Offering the possibility of participating in the innovation event virtually is a way to ensure that all employees and collaborators, regardless of their geographical location or availability, can have access to the information and content of the event. This not only increases participation and the reach of the event, but also promotes inclusion and teamwork among members of the company.
This means that a person who was unable to physically attend the event or attend at a specific time can watch replays of the conferences they are interested in or learn about the company's innovation projects by visiting the stands at any time they wish.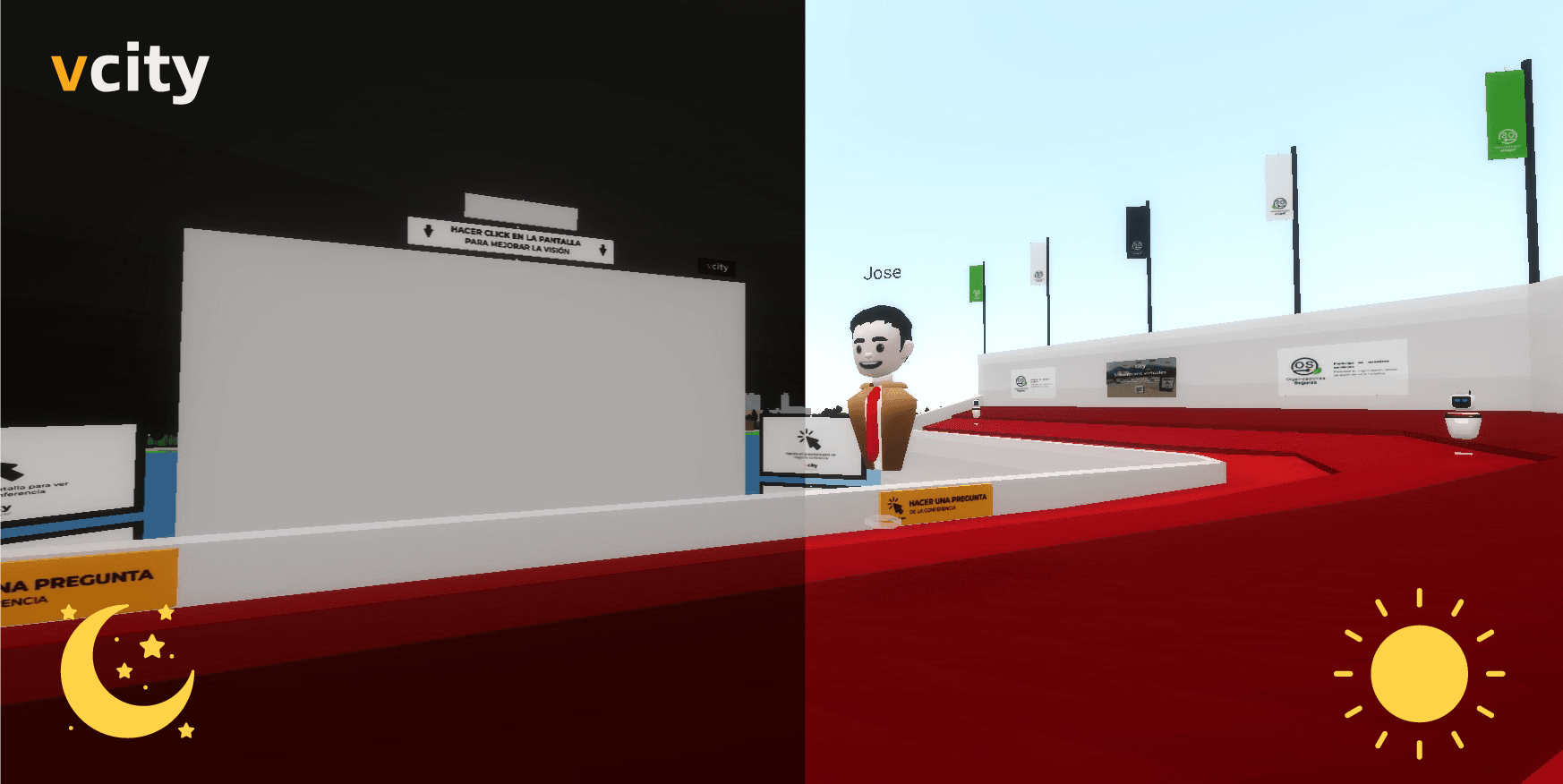 Expand the experience of your innovation event from any device
The ability to access the virtual experience of the innovation event from any device, without the need to download or install programs, represents a great advantage for employees and collaborators looking to participate in the innovation event remotely.
This allows them to connect and participate in real-time, from anywhere and at any time, increasing the likelihood that they can actively engage in the innovation event and contribute their ideas and knowledge. In addition, by not requiring the download or installation of programs, it reduces the complexity and time needed to access the experience, making it easier for employees and collaborators to participate.
Create your innovation event and transform the future of your company
Innovation is not just an option, it is the key to surviving and thriving in a constantly changing world. Dare to innovate and discover the power of transforming the future!